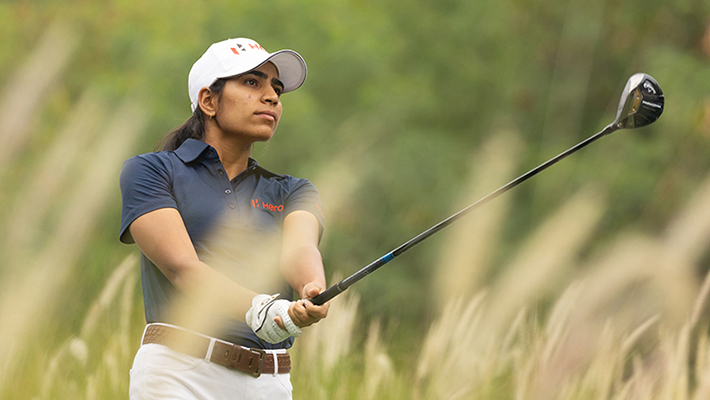 Diksha leads strong Indian challenge as Gustavsson and Cheenglab look to spoil the party at Hero Women's Indian Open
Gurugram, October 18: Diksha Dagar, Tvesa Malik and Amandeep Drall lead a strong Indian challenge as Johanna Gustavsson of Sweden, Thai Trichat Cheenglab and Austria's Christine Wolf look at spoiling the home party at the Hero Women's Indian Open 2023, which gets underway at the DLF Golf and Country Club tomorrow.

Diksha is well placed to make her way into the history books as she gets ready to tee up at the US$ 400,000 event. Diksha, who turns 23 in less than two months, has already won this season and lies fourth on the Race to Costa Del Sol, the Order of Merit for the Ladies European Tour.

A win this week will carry her right to the top and put her in a position to become the first Indian to win the Order of Merit.

Alongside Diksha, two other strong contenders could be Tvesa Malik, who is slowly but surely regaining her form, and Amandeep Drall, who was runner-up last year. A total of 32 Indians feature in the event which is in its 15th staging and has become a much-loved event on the Tour.

The left-handed Diksha is in the midst of her best season on the LET with six top-10 finishes and a win at the Tipsport Czech Ladies Open earlier this year. It was her second win on the Tour after her success in 2019 at the Investec South African Women's Open.

Showing the confidence levels that seem to be rising with each week, she said, "It would be a very proud moment to win the Hero Women's Indian Open. I'm feeling good, this season has been great so far and clearly my best in five years playing on the LET. This year has pushed my confidence and I'm feeling confident that I will do well. I will do my best!"

"DLF (golf course) is like my second home golf course," she said. Dagar lives just 30 minutes from the golf course. "The greens and the facilities are very good. It is a very tough golf course but it gives you very good preparation for the international events.

"It's been very nice to be home after playing a lot of golf internationally. Being here at home is a lot different, it's a bit easier and you have more crowds supporting you. It feels really good. My family will be here. I'll be honest, golf is growing a lot more in India so a lot of them will be coming to watch.

"It was a good thing," Dagar remembers. "At that time I used to think it was a very big event and I knew it was a very big opportunity. I am grateful to my family and the people who have supported me through the journey. Now when I play here on the Ladies European Tour in India, I get flashbacks and very good feelings."

Diksha made her debut at the Hero Women's Indian Open in 2016 when she was still an amateur and that year she was the best amateur as well. Diksha also finished T21 at this year's AIG Women's Open and she hopes this week she can become India's second winner of the Hero Women's Indian Open.

Tvesa said, "My game is getting better. It has been nice getting back into contention and it is nice to come back here on a familiar golf course. This is my home course and I have been playing here all the time.

While the Indian brigade makes a bid to keep the trophy at home, Johanna Gustavsson is looking to grab a second title this season. She is second on the Order of Merit and a win could even seal the Order of Merit for her with only three events left in the season.

Gustavsson said, "It is great to be back here. I have been here quite a few times. The course is in great condition as always and it is such a good test. I have been playing well and won a few weeks back and I am excited to be back."

Thai star Trichat Cheenglab, who is in her rookie year, hopes to follow in the footsteps of Pornanong Phatlum (3-time winner) and Thidappa Suwannapurra who have won the Hero Women's Indian Open in the past.

Trichat added, "This is my first year on the LET and I have enjoyed it a lot. It is almost my second home and I have made a lot of friends. This is a challenging course. This is my second time here as I had first played Hero Women's Indian Open in 2019 on an invitation spot.

"I know we have had Thai winners here and I hope to join them this week."

Christine Wolf, who won the title in 2019 is relishing the feeling of coming back to DLF Golf & Country Club. In 2019 Wolf fired a final round 69 (-3) to win by three shots for her first win.

"It's so nice being back here," the 34-year-old said. "It almost feels like coming home. I feel really comfortable here and I had a really warm welcome when I arrived. It's just so nice being back.

"I love the food here and the people. They're so happy and welcoming. It always feels like they really enjoy having us back here. And of course, the food is amazing.

Tvesa Malik will go out early at 7.10 am alongside Florentyna Parker and Lauren Holmey, while Diksha Dagar will play in the afternoon from the 10th tee alongside Nuria Iturrioz of Spain and Manon De Roey.

Gustavsson tees off from the 10th with former champion Becky Morgan and Seher Atwal at 11.35 am and Trichat Cheenglab plays with Elin Arvidsson and Vanessa Knecht from the 10th tee at 11.55 am.

As a curtain raiser to the event, the morning Hero Pro-Am saw India's Gaurika Bishnoi along with her team comprising of Ravinesh Kumar, Mahaveer Singhvi, Kundan Kumar, take the top spot at a score of 39 Under Par.