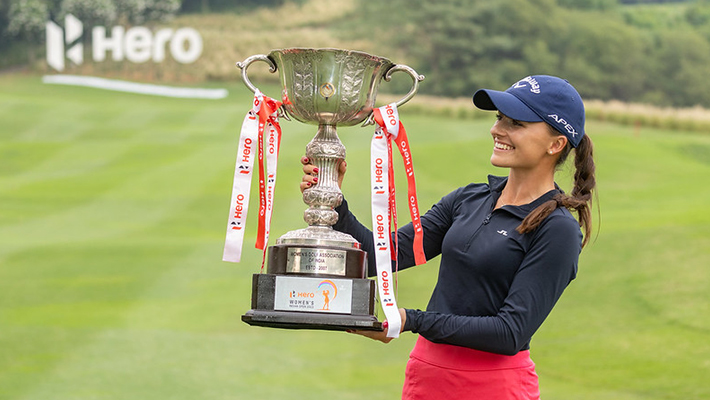 Aline Krauter grabs Hero Women's Indian Open title, Diksha finishes third; 3 Indians in Top 10
Gurugram, October 22: Leading by two shots going into the fourth and final round of the US$ 400,000 Hero Women's Indian Open, overnight leader Germany's Aline Krauter (68) overcame an early challenge from fellow rookie Sara Kjellker (71) of Sweden to win her maiden Ladies European Tour title at the DLF Golf and Country Club.

Krauter with rounds of 69-68-68-68 totalled 15-under 273 and Kjellker with 73-66-68-71 was 10-under, grabbing the second position. Krauter and Kjellker are both in their rookie year, with the champion also a rookie on the LPGA.

Krauter's win meant the Hero Women's Indian Open has a German winner for the second straight year as Olivia Cowan won last year. In between, another German, Marcel Siem won the men's Hero Indian Open at the same course earlier this year. "I knew Olivia won last year, but I was just told that Marcel Siem won the men's event, too. So obviously India and this course works for us," she said with a big laugh.

Diksha Dagar, who could have moved to the top of the Order of Merit with a win or solo second, gave it all with five birdies against two bogeys on the front nine, but on the back nine, the birdie putts did not fall. She had just one birdie and dropped shots on the 10th and 14th to ultimately finish with a card of 70 at 8-under 280 to finish sole third.

Diksha did move to the second place, up from her fourth place on the Race to Costa Del Sol. She is now just about 78 points behind the OOM leader, Celine Boutier of France, who did not play this week. No Indian has ever won the Order of Merit on LET and Diksha has three more events left in which to achieve the distinction.

Making it a great week for India were amateur Avani Prashanth (69) at Tied-5th with Sara Kouskova (65) of Czech Republic and Gaurika Bishnoi (71), who ended Tied-8th with Finland's Noora Komulainen (69).

Overall, 10 Indians made the cut and all of them finished T-36 or better with three of them in the Top-10.

An ecstatic Krauter said, "I feel amazing. I think the support I've got this week from everyone, from sponsors, to fans, to little children, to other players in the field has been amazing, which makes it that much more special. And then obviously being a first time winner on the LET also obviously means the world to me. So I'm excited to tee it up on the LET next year again and hopefully come back to India as well."

"I think my mindset was great. I just started working with a mental coach this week and I think that's really shown and I feel a lot more level-headed, I think which is really important, especially around a golf course like this. So, I think that really worked well for me and then my ball striking was great, which really saved me around this golf course."

"My caddie and I we were still joking around on 18 and it just felt really natural and it does feel really natural with him in general. So, we just had a ton of fun this week. So it's really special to share that with him as well."

Indian Diksha Dagar who finished third, said, "It was a wonderful experience. I would like to thank my Hero MotoCorp, DLF Golf and Country Club, the volunteers and the supporters. I am happy with the way I finished.

"I would like to stay in the present and I am going to continue my game and I am going to look out and work on my weaknesses. I am also looking to improve my diet and work on my skills."

Two-time national champion and Queen Sirikit Cup winner Avani Prashanth, who also won a title on the LET Access series, received the amateur winner's salver and she was overall Tied-fifth, improving on her T-12 place in 2022. "Maybe I will get to win it when I turn pro. I plan to play the LET Q-School later this year," said Avani. "It was great fun and I love this tournament."

As for the other Indians, Amandeep Drall (69), who made the cut on the line finished a creditable T-16 alongside her best friend, Vani Kapoor (78) who had a totally off-day. The US-based Nishtha Madan (74) was T-20, Ridhima Dilawari (74) was T-24, Khushi Khanijau (73) was T-31, Neha Tripathi (73) was T-36 as was amateur Vidhatri Urs who played very well on first two days but ended the week with 78.

For the first six holes, Kjellker seemed hot on the heels of Krauter with just one shot separating them with 12 holes to go. Twice in the first four holes, there was a two-shot swing, once each for Krauter and Kjellker. With two pars following, the battle stayed tense with Krauter leading by just one.

Krauter saw her two-shot overnight lead cut to one by the time the duo walked off the second green. Just one shot separated them till they had finished six holes each while playing together in the final group.

Then three birdies which brought the front nine to an end sealed the deal for Krauter and Kjellker showed signs of cracking. Krauter birdied three in a row from seventh while Kjellker bogeyed seventh and ninth. Suddenly in a matter of three holes, the German had stretched her lead from one shot to six shots and it became seven with two holes to go. Kjellker birdied the 17th and Krauter bogeyed the 18th but emerged winner by five at the DLF Golf and Country Club.