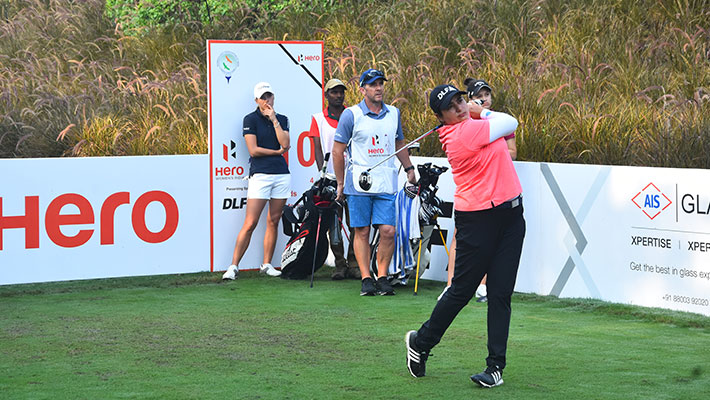 Biggest home contingent makes cut at Hero Women's Indian Open 2022
Gurugram, October 21:Amandeep Drall and Gaurika Bishnoi led a sizeable Indian contingent into the weekend rounds of the US$400,000 Hero Women's Indian Open at the DLF Golf & Country Club on Friday.

From a total of 30 who teed off on Day One, as many as 15 – the highest ever - made the cut which fell at eight over par 152 to qualify for the final two days of India's biggest women's golf tournament.

In all, 64 players, 61 professionals and three amateurs survived a brutal day on the course with just 12 in a field of 114 bringing in under-par cards in the second round.

LPGA regular Aditi Ashok was the next best-placed among the home contingent behind co-leaders Amandeep and Gaurika at three-under par 141 (70-71) and had the added benefit of bringing in one of the day's very few bogey-free cards.

Speaking about the round, Gaurika said, 'I definitely set up a lot more birdie opportunities today as compared to yesterday. And I wouldn't say I converted all of them. I did hit some of them close, some were longish.'

'I didn't have the best start today, I was two over through three holes but I made a birdie on 4th hole so the momentum came back. I was one under through the front nine. And then I made four more birdies in the back nine and was three-under in the back nine. So, four-under for the day', added Gaurika.

Amandeep, after a bogey-free opening round, had a topsy-turvy day with 4 bogeys cancelling out 4 birdies for her. She said, 'The pins were trickier than yesterday. I just approached it the same way as I did yesterday.'

About her 3-putt on the first hole, she said, 'I had a 3-putt on the 1st hole, but that was my bad because I went too aggressive as I wanted to hole it. And then I paid for it. So I took a risk, I took a chance. So it's OK, I'll take it.'

Vidhatri Urs (74-72), Anika Varma (75-73), who the best-placed home finisher at the last edition of the Hero Women's Indian Open in 2019, and national champion Avani Prashanth (75-76) were the three amateurs to qualify for the final two days.

Vani Kapoor (72-71) made the cut for the tenth time in a row. She was ecstatic when informed of her feat. "Really? I had no idea! You've just made my day," the 28-year-old said. "I've always been comfortable playing this course and the Hero Women's Indian Open always brings out the best in me. Overall, I made seven birdies and six bogeys today so it's a little mixed feelings there, but definitely pleased to be in contention for a tenth straight time."

Four Indians were under-par after the 36-hole cut – Gaurika, Amandeep, Aditi and Vani.

Indians who made the cut

Amandeep Drall and Gaurika Bishnoi (-5); Aditi Ashok (-3); Vani Kapoor (-1); Nishtha Madan (+1); Neha Tripathi and Vidhatri Urs (A) (+2); Hitaashee Bakshi (+3); Tvesa Malik, Diksha Dagar and Anika Varma (A) (+4); Ridhima Dilawari (+5); Asmitha Sathish (+6); Avani Prashanth (A) (+7); and Seher Atwal (+8).