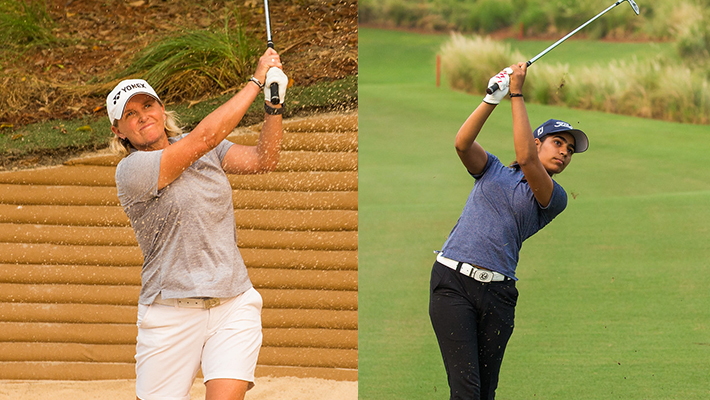 In-form internationals will face stiff contest from upbeat defending champ Becky Morgan and enthusiastic home stars at HWIO 2019

Gurugram, October 02, 2019: Marianne Skarpnord, Meghan MacLaren and Carly Booth, who have one win each and a clutch of Top-10 showings this season, are the front runners for the 13th Hero Women's Indian Open if one goes by the Ladies European Tour's Order of Merit. They are third, sixth and eighth respectively, but Becky Morgan, despite being currently 61st in the rankings, is on a different plane.

Skarpnord, who has often been among the contenders in her past trips to India, won the Australian Ladies Classic besides four other Top-10s; MacLaren won the Worrells NSW Women's Open and has also logged three other Top-10s. Booth broke a seven-year drought at the recent Tipsport Ladies Czech Open besides which she has four Top-10s.

The only other winner on the 2019 schedule in this field is India's own Diksha Dagar, who grabbed the Investec Women's South African Open, besides adding another Top-10 and three other Top-20 finishes.

The last and only time an Indian won the Hero Women's Indian Open was Aditi Ashok in 2016. But now there is a bunch of young Indians, who could make a run on a course, which has been a host for some events on the domestic Hero Women's Pro Golf Tour.

Dagar, a rookie who scored her maiden win in only her fourth LET start, is playing her first HWIO as a professional after three previous starts as an amateur.

Last year's champion, Becky Morgan, 45, is back again. Last year was her ninth attempt in India having never won a title on LET or the LPGA previously. She admitted that at one point after coming close to winning on the LPGA and then not making it, thought she was never going to get over the line.

She said, "Coming into the last round in HWIO 2018, there were three of us tied on four-under (Morgan, Broch Larsen and Ellie Givens). I got no sleep at all the night before, because I was in this 'here we go again' mentality. I thought, let's do something else, let's not look at the scoreboard.

"That's the one round of my life where I was mentally 100 per cent. I spoke to a friend that morning and she suggested that I have a mantra in my head to take myself away from the situation.

"On the 15th green, I saw my name at the top (of the leader board), but I didn't see any scores. The next time I looked was on 18 and it was a very pleasant surprise.

"Knowing that I had a two-shot lead, I had a 20-25 foot putt from above the hole and I thought, if this doesn't go in, let's make sure it goes past the hole, so you give yourself an uphiller and you can nudge it towards the hill if you have to. I was obviously happy to make that but it was definitely a strategy not to leave myself a downhill putt in case it slid by. That was the only time I thought about the actual winning of the tournament. It was a feeling of happiness but also of relief. I thought: you've now won a golf event: for one week, you were the best. Obviously I would love to repeat it again this year."

She is upbeat to be here and would love to get better than the best of T-14 she has as her top performance of 2019 at Australian Ladies. "This year so far hasn't been great, but winning once makes you feel like you can do it again and I'm looking forward to defending," she said.

As for the Indians, apart from Diksha, there is Tvesa Malik and Gaurika Bishnoi, the best Indians in 2018 at T-13, Vani Kapoor, who was T-6 in 2017.

Now the Indian squad also has amateurs like the talented Pranavi Urs, the 15-year-old and Sneha Singh, the only amateur to have won this year on the domestic WPGA Tour.

There is also the up and coming Ridhima Dilawari, who has won three titles on domestic Tour this year and she played the Asian Games as an amateur, alongside Diksha last year in Jakarta.

Diksha is upbeat at the prospect of her first outing at the HWIO as a professional. "It is going to be exciting, playing as a professional here for the first time. I am used to playing here and one thing I know now is that you have to learn from the golf course, find the best places to place your ball and pick the best lines."

For her part, Hyderabad's Sneha is surprisingly calm about her prospects, never having faced the testing Black Knight course designed by South African great Gary Player.

"Yes, it is a tough course but It's not all that bad, and I'll be doing my best here. I was here two years ago to watch the Open when DLF invited junior players from some clubs around the country to come and watch the professionals. This will be a good challenge," she said on Wednesday.

Among the internationals, a few others have recent form behind them including Austria's Christine Wolf, who finished tied fourth behind Solheim Cup star Carlotta Ciganda at last week's Estrella Damm Mediterranean Open in Spain.

The stage is set for an exciting four days, which will be telecast live on DSPORT. The action will be live on Thursday and Friday from 12:30 to 16:30 IST and from 12:00 to 16:00 IST on Saturday and Sunday.