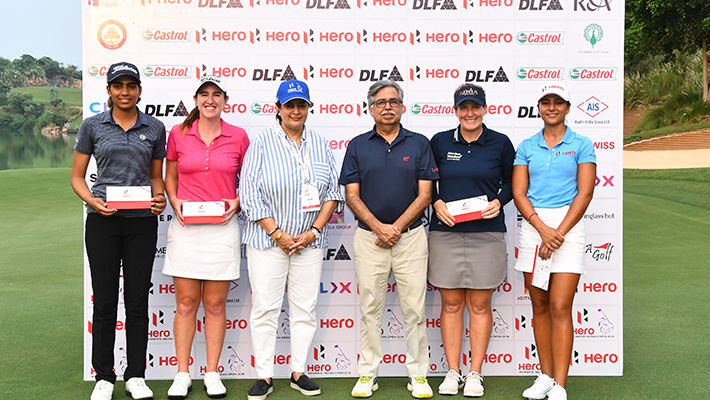 Becky Morgan of UK to defend her title as Hero Women's Indian Open enters 10th Year on Ladies European Tour

Gurugram, October 01, 2019: Welsh golfer Becky Morgan returns to India, to what she calls is her favourite place and golf course as she defends the Hero Women's Indian Open she won last year. Before taking the stage to represent Europe at the Skills Challenge, the traditional ice-breaker at the HWIO, Morgan, said, "I love coming to India. It's my tenth visit and I just love this course. Actually I liked it even when we played at the other course, Delhi Golf Club a couple of times."

"It was almost the end of the season when I won last year and it's not been very great this year, but I am hopeful of a good defense of the title." Her best this season has been T-14 at the Australian Ladies Classic at the start of the year.

The Hero Women's Indian Open, to be held from October 3 – 6 at DLF Golf & Country Club, enters its teens this week as it celebrates its 13th staging, and it is also the 10th anniversary of Hero MotoCorp's title sponsorship and the 10th anniversary of its association with Ladies European Tour.

India's two top stars from 2018, Tvesa Malik and Gaurika Bishnoi did remember the time when the Women's Indian Open began in 2007.

Tvesa said, "I was definitely not playing golf 12 years ago, probably just starting out. But I do remember 6 years ago, I used to live in Bangalore and me and my sister flew down to volunteer for the Indian Open. I got to score some of the groups, walk around and got a lot of free golf balls from the top pros! So that was amazing and to think about the journey from volunteering and watching the pros play to now getting a chance to play myself feels almost surreal."

Gaurika added, "I had just started playing golf around that (2007) time. I remember we used to have the Indian Open over here. Laura Davies (in 2010) would come and she would hold the clinic and we were just little kids who would be so excited to see our idols and volunteering for the Indian Open. It has definitely been a long journey from walking with the player, writing the scores to actually play in the event and doing well in it."

The event also becomes the first major sporting event in India to discourage single-use plastic bottles and has placed water refilling stations at various places around the course for players, spectators and officials.

The US $ 500,000 HWIO, which started in 2007, became a part of the prestigious Ladies European Tour in 2010. For the second time running the Hero Women's Indian Open will be telecast live globally and will be played over four days and 72 holes.

Mrs. Kavita Singh, President Women's Golf Association of India, said, "It is our tenth year of collaboration with Hero MotoCorp and the tenth year of our association with LET, and this tournament would never have been possible without the support of Mr. Pawan Munjal. He has been unstinting in his support of women's golf. The results have shown that the effort has been worth its while."

Speaking of the time, when WGAI first began its journey with the Women's Indian Open back in 2007, Mrs. Singh said she had full confidence that it (setting up an international event) was the right thing.

"To be honest, I wouldn't have been here if I didn't have total confidence in what we were doing. I know we were at our nascent stages when we started off with just four or five pros. But we are a country of 1.3 billion. Surely, we can turn out some sportspersons who are good and we have been able to do that. I had the utmost faith in our women golfers. Yes, it has been a long and tough ride, but I have to say that all our sponsors have been amazing. Dr. Munjal - he took the prize money up from USD 300,000 to USD 500,000 which is a huge amount for a country like India," she said.

Apart from defending champion, Becky Morgan, the international participants include the 2017 winner, Camille Chevalier and other leading names like Carly Booth, Beth Allen and other LET winners including Meghan MacLaren, Marianne Skarpnord, Kanyalak Preedasuttijit, Astrid Vayson de Pradenne, Florentyna Parker and Linda Wessberg.

The field will also include Indian stars from the domestic tour and the leading amateurs. The Indian stars will be led by Diksha Dagar, winner of the 2019 South African Women's Open in March. There are others like Vani Kapoor, who has been in Top-10 in recent past.

Gaurika Bishnoi and Tvesa Malik, who were both Tied-13th at the last edition, Ridhima Dilawari, who turned pro last year, Amandeep Drall, Astha Madan, Gursimar Badwal and others will hope to make the best of their familiarity with the course. Tvesa Malik recently won a domestic event at this course.

There are a total of 22 Indians, including six amateurs. The six amateurs are Sneha Singh, Pranavi Urs, Seher Atwal, Anika Verma, Hitaashee Bakshi, Jahanvi Bakshi.