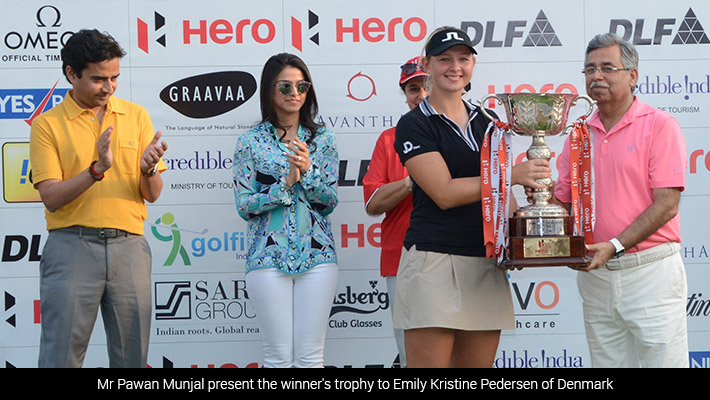 Emily triumphs at the Hero Women's Indian Open 2015
Gurgaon, 25th Oct. : Rookie Emily Kristine Pedersen's first trip to India turned out be a memorable one as she fended off a strong challenge from Cheyenne Woods, Becky Morgan and Malene Jorgensen, carding one over 73 to win her maiden European title after the final round of the Hero Women's Indian Open 2015 here today. The $400,000 event which is tri-sanctioned by the Ladies European Tour, the Ladies Asian Golf Tour and the Women's Golf Association of India culminated at the DLF Golf and Country Club today.

The trio of Cheyenne Woods, Becky Morgan and Malene Jorgensen finished with identical totals of 217, a shot adrift of the winner, to end the tournament in tied second position. Amateur Aditi Ashok carded a total of 225 to be placed tied 13th and finish as the best Indian performer, while Vani Kapoor finished tied 20th with a score of 227 to be adjudged as the best Indian professional at the tournament. Two other Indians Saaniya Sharma and Smriti Mehra ended tied 60th and 62nd respectively.

Emily, who began the day atop the leader board, was under constant threat from Cheyenne Woods of the USA but held her nerve to eventually get over the line. The 19 year old Dane started the day with a bogey on the 1st hole but recovered with a birdie on the 9th. On her way back, she carded a birdie on the 11th hole before dropping a shot on the 14th to concede her lead momentarily. She recovered soon with a birdie on the 15th but again dropped a shot on the 17th which saw her surrender the advantage yet again. It began to look as though the winner would be decided only through a play-off, but a folly by her closest challenger Woods on the last hole made it easier for the Dane and even though she herself carded a bogey on the last hole, it was enough for her to pocket the winner's cheque of $60,000.

The 19-year-old Emily, who led the field from the very first day was elated to nail the victory in India. "It feels amazing to win in India. I feel proud of myself. The memories of loss in France were flashing back to my mind, but I am happy that nerves didn't get on to me and I clinched my first title."

"On 17th hole, I felt I could win the title, but a bogey there made me nervous. On 18th, I was thinking about my loss in France, thoughts of play-off were also coming to my mind, but in the end I won the title and that matters. I will definitely come back to India next year to defend my title," concluded the newly crowned Hero Women's Indian Open winner before heading for the presentation ceremony.

Cheyenne Wooda never looked to be in contention after an opening-round 77, but a good second round meant she started the final day as a strong contender. And true to everybody's expectation, she started off with a bang and looked like a player on a mission. She carded birdies on the 2nd, 4th, 6th and 11th holes. She took the sole lead at one point in time and was looking favourite to win the title, but a bogey and a double on the 14th and 18th respectively foiled her chances. She finished with a score of one under 71 on the final day, but it was not enough and she had to be content with the tied second position.

"I played very good golf throughout the day and sank some beautiful putts, but I think I messed up on the last hole. You can't win a tournament by dropping a double bogey on the last hole," said the niece of the US legend Tiger Woods.

Welshwoman Becky Morgan with one over 73 and Dane Malene Jorgensen with an even par round were tied with Woods for the runners-up position with identical scores of 217 at the end of the third and final round today.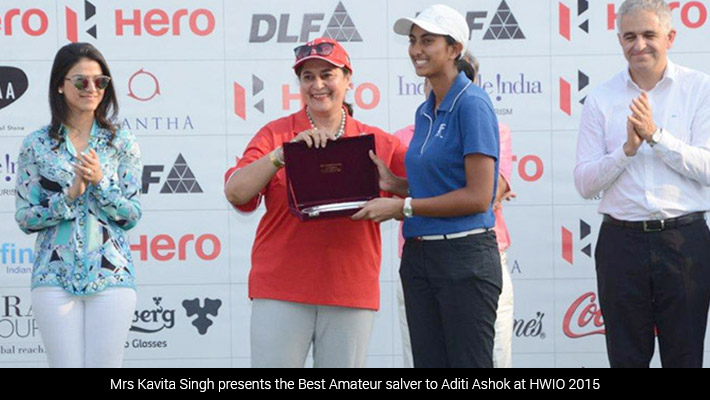 Aditi Ashok who entered the last day with a strong hope of turning things around lost her way and played an indifferent round with three birdies, four bogeys and two double bogeys.

"I think two big mistakes I made were doubles on fourth and 10th, but otherwise my round wasn't so bad since I made some birdies too. It was a tough course and I learnt a lot from my experience of playing in the Hero women's Indian Open. I will play at the Sanya Ladies Open in China next month," said Aditi, who has won three international titles this year.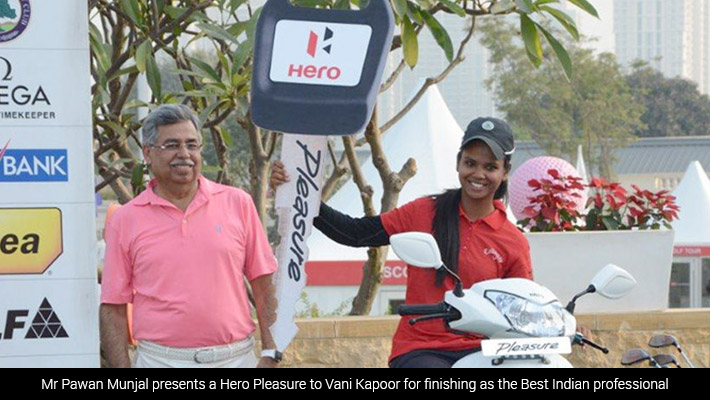 The event which has Hero MotoCorp as the Title Sponsor and DLF as the Presenting Sponsor is Powered by Yes Bank.

Connect with us on Facebook
Follow us on Twitter