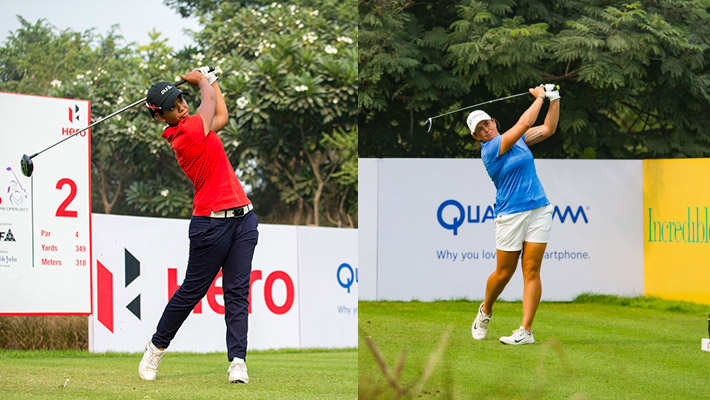 Vani keeps Indian flag flying, lies in shared 2nd place;
Michele Thomson breaks course record by three
NEW DELHI, NOVEMBER 11: Michele Thomson, a prodigy-turned-constable-turned-record breaker opened a handy three-shot lead over the rest of the field, as the Gary Player course at the DLF Golf and Country Club finally yielded mouth-watering scores for the first time in three years.

Thomson smashed the existing record of 5-under set by Thai Kongkraphan Patchrajutar in 2015 and by Marianne Skarpnord on Friday, by three shots.

Even as the focus was Thomson, India's Vani Kapoor (69-68) finished birdie-birdie to get a share of the crowded second place at 7-under. Vani, teeing off from the 10th, once again took time to find her momentum as she turned in one-under. On the second nine, the front stretch of the course, she bogeyed the first, but birdied four times on second, fourth, eighth and ninth.

Tied with Vani for the second place were three other players, French duo Camille Chevalier (68-69) and Celine Boutier (71-66) and Australian Sarah Kemp (71-66).

Lurking right behind them at 6-under 138 was Spaniard Carlota Ciganda (70-68), with six others Titiya Pluckasataporn (71-68), Meghan MacLaren (69-70), Belen Mozo (74-65), Olivia Cowan (69-70), Klara Spilkova (69-70) and Lydia Hall (72-67) one shot behind them at tied seventh.

It was ten years ago that Thomson first came to India as a prodigious amateur to play in Bangalore at the Emaar-MGF Masters. She finished T-64. A decade later, she is back here on a sponsor's invite from Hero, for the Hero Women's Indian Open. "I requested an invite after Abu Dhabi," she said. Those 10 years in between are a story in itself – working in the police, working in a pro shop and meeting Donald Trump, too.

The one-time prodigy, now 28, has seen it all. Literally. From losing her mother Eleanor at 11; to being a Scottish Amateur champion and making the Curtis Cup team, which she recalls was fun, because there were teammates to share the joy with.

She turned pro in 2009 and did begin fairly well if not spectacularly. However, after just 'half a season' or so, she gave it all up, because pro golf was "lonely".

She joined the police and became a Beat Constable in Aberdeen. A little over two years later, she left the Police and worked in a pro shop and in the period from 2009 to 2013, she did not touch golf clubs.

She worked at Trump's course in Aberdeen. "I came out of the Police and started working in a pro shop and caddying and then decided that I needed to get back on tour. I started working at Donald Trump's course in Aberdeen. I have met him, but only in passing."

After quitting the police, she worked in a Pro shop. One day, watching golf on TV re-kindled her aspirations. "Working in the Police and watching difficult scenes put golf into perspective," said Thomson.

Thomson came back as a full time pro in 2013. She played local events and some on LET Access. By 2015 she had a win in Spain and was eighth on the , LET Access Money List. A year later in 2016, she secured a full card for 2017, finishing fourth on the LET Access series.

Vani Kapoor said, "I found a lot of greens, but was faced with a lot of downhill putts. She added, "I am not putting any pressure on myself and going one shot at a time. I am ready to take where my destiny takes me. If I play well I get a good finish and my LET card, or else I will keep working on it."

She continued, "I have not been hitting too well, but I have been putting better. As I said I am not looking at positions, I just want to do my best."

Aditi Ashok had a mixed day with four birdies and two bogeys for a second straight 70 that took her to 4-under and dropped her from T-10 to Tied-13th place. Gaurika Bishnoi, despite finding 16 greens in regulation, carded 73 and is lying T-26, down from overnight T-10.

Defending champion Aditi started with a bogey on tenth, but recovered with birdies on 13th and 15th and on the front side of the course, she dropped a shot on fifth, but birdied fourth and eighth. Three of her four birdies came on Par-5s, which are the tall Indian's strong point.

Bishnoi said, "I had nine on nine greens on the back nine, and birdied three times. The trouble was when I missed on the front nine, it was on the wrong side of the pins, which were tougher today and I bogeyed first and eighth."

The only other Indian making the cut was amateur Pranavi Urs, who has been playing alongside the pros on the domestic Tour. The Bangalore golfer, Pranavi carded two-under 70 with five birdies, one bogey and one double. Four of her birdies came on the front nine and at 3-over 147, she was T-51.

Playing at the course considered among the most challenging on the Ladies European Tour, the women professionals from Europe and Asia, who have been taking it on since 2015, seemed to have had they say for the first time.

Rebecca Artis made amends for her first round 75 by going 10 better to 65. Also shooting a 7-under 65 was Belen Mozo of Spain, while Australian Sarah Kemp and French golfer Celine Boutier carded 66 each, all better than the record that had stood till a day earlier. Lydia Hall shot 67. A fair sprinkling of 68s and 69s and others below the par 72, indicated that the demons in the mind about the course were finally being put to rest.

In the morning, Smriti Mehra was among those who pulled out, while Amandeep Drall , Saaniya Sharma (73-79), Gursimar Badwal (74-79), Sharmila Nicollet, Neha Tripathi (82-76) and Tvesa Malik (83-75) and all prominent names on the domestic Tour, were among those who fell by the wayside, knocked out by the cutline.

The cut fell at 4-over 148 and 63 players, including amateur Pranavi, made the cut.